I am so delighted to welcome Becky Belshaw to the Studio as a newly qualified Kettlercise Instructor, set to take my Friday morning 10am class. Becky is a real ray of sunshine in the Studio as a client and I am confident that you will all love having her lead you in her new role as an instructor.
I asked Becky to give us a little insight into what made her decide to take up this new role and what she hopes to bring to the Studio, and you, our clients.
'I've been going to Millie's Kettlercise classes at the studio for over 2 years now, they're such a fun way to get/keep fit while toning up and strengthening the body. I always feel so at home in Millie's classes and love her ethos of smaller group training.
My little girl started school last year and I found myself in a position where I had a little more time to focus on myself and what I actually wanted to do with my career. My passion for fitness had grown since having my daughter and I decided that perhaps this was the time to make the jump and pursue becoming a trainer myself.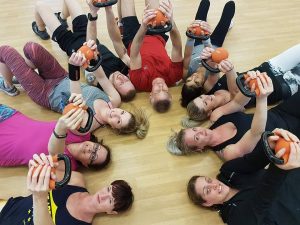 Millie has such a passion for her job, her knowledge is incredible so you always feel in safe hands and she always pushes you hard to be your best. The groups are small so you are never overlooked and there are no overwhelming, crowded classes. Kettlercise is something I've really come to love and I look forward to every class. It's my stress-relief and my happy place. The class formats regularly change so there's never a chance to get bored. It works your whole body, and because it's cardio it's brilliant for weight loss and just a general happy buzz.
I am so excited to use my energy and love for Kettlercise to help other people to find their own confidence and happiness through fitness, making it as fun and energetic as possible. I'm all about feeling good and laughing while you're looking after your body. Looking good is just a nice side effect if you keep up the hard work.
I can't wait to see you in the Studio soon xx'