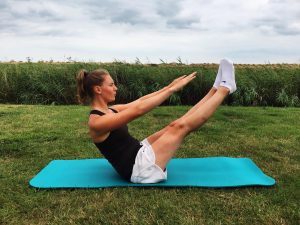 Leonie Gerken Schofield is a medal-winning mogul skier winning the Europa Cup twice, once in 2013 and once in 2017 with many medal winning awards in between.
She started skiing at the age of five but her career has been troubled with many injuries including two knee operations, a dislocated shoulder and most recently (in April) she broke one of her vertebrae and has been going through rehabilitation to get back to the skiing squad ever since.
Leonie came to me after suffering the spinal fracture and had spent 3 months in a back brace.  With poor trunk stability, mild scoliosis as a result of the brace and a couple of months to get back up to speed, Pilates rehab work was the perfect choice.   
Unlike other forms of rehabilitation exercise, reformer Pilates doesn't require rest days in between, you can see the benefits of the work you put in in just a few weeks. The more work you put in the more you get out of it. 
Leonie was a model client working hard in her sessions with me and doing all I required her to do outside the studio.
"No words can describe how great Millie is at her job! She is passionate and loves helping others!… Thanks to Millie I have gained so much in just a couple of weeks…I couldn't be happy enough on discovering Pilates with Millie, it has been amazing and shown me all the positives from this injury! Thank you so much Millie!"
"Pilates is definitely the best physical fitness for any injury and and sport!"