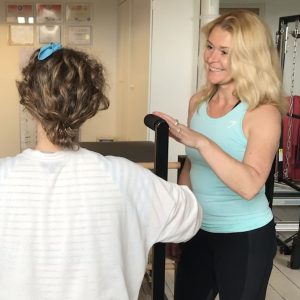 Many people have lots of questions when it comes to starting Pilates and sometimes have preconceived ideas about what it is and what it does.  Pilates is a safe and accessible practice that focuses on building strength, flexibility, improving posture and enhancing mental awareness.  It is suitable for all bodies of all ages.
A large equipment Studio is a very different environment to the familiar mat-based classes you may be accustomed to, so your enquiry will be followed up by an initial phone consultation in order to understand your needs, why you are considering joining the Studio, what you want to achieve from it and to determine if the studio and its classes are the right 'fit' for you.
After this consultation, and if you decide you want to move forward, a one-to-one, more in-depth consultation takes place in the studio*.  This will be an assessment of where you are currently and what your Pilates goals are. You will be introduced to the different pieces of studio equipment. Learn about the different types of classes on offer and how they differ.  This consultation allows us to build a bespoke private tuition programme or a bespoke programme of group classes that would best suit your needs and level at this point in time.
*Studio consultation is 1 hour and costs £10 which is discounted on joining the Studio